Description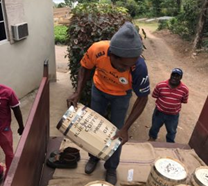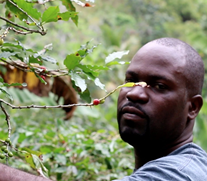 THE FARM
Trumpet Tree Coffee Factory is run by Arthur Mcgowan, a Jamaican grower of Blue Mountain Coffee, currently the 85 acre property is fully planted with Typica variety, the farm is located on Constitution Hill in St Andrew Town Hall.
Farm owner Arthur and his ten siblings grew up in Jamaica's Blue Mountains with their parents, where the family's main source of income was agriculture.
During holidays and weekends, when school was over, Arthur looked after his father on the farm.
Although his early efforts in agriculture were far from encouraging, he did some research and decided that an efficient irrigation system was needed.
Over time Arthur has nurtured and watched his seedlings gradually grow and mature into sturdy trees, producing complex tasting ripe coffee berries.
THE PROCESSING
Each batch of coffee harvested from the farm is stripped, hand washed and then placed on raised beds to air dry.
From developing a unique farming method and a new approach to land, people and culture, Arthur's vision is to lead new development in the industry and ensure stakeholder satisfaction, Arthur has also acquired a license from the CIB to trade Jamaica Blue Mountain Coffee.
Each barrel of coffee must pass the Coffee Industry Board's quality control which imposes strict rules for growing, harvesting, processing and marketing coffee, in order to ensure that the end result is always a great cup of coffee.
Today the annual production of Jamaica Blue Mountain green coffee is extremely low, making it one of the rarest, most luxurious, sought after and delicious varieties in the world, also referred to by many as "the champagne of coffee.
THE EXPERIENCE IN A CUP
In the cup this specialty coffee is characterized by an incredible aroma and sweetness, absolutely not bitter with hints of fruit, jam, cocoa
and tobacco.
WHEN WILL WE ROAST AND SHIP YOUR COFFEE?
We roast our coffees every day *, pack them immediately and ship them *. Orders to be shipped the same day must be completed and paid by 10:00 (UTC + 1), orders placed after will be processed the next day *. (* = Saturdays and holidays excluded)